10 most common uses of black soap
10 easy black soap recipes to make your home clean, naturally!
Black soap: the most economical, ecological and natural alternative to clean your home from floor to ceiling, including plants and pets!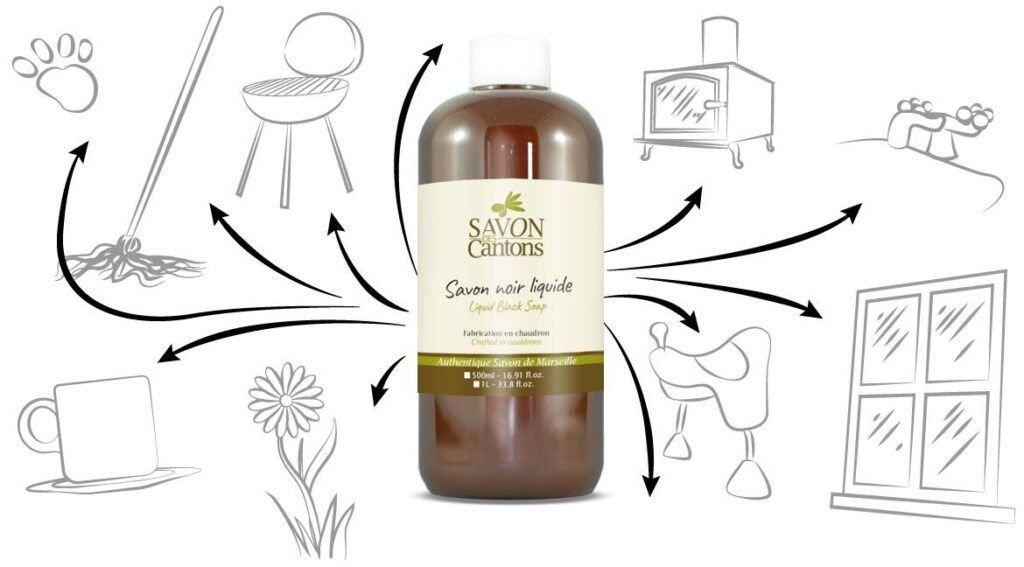 First of all, what is black Marseille soap?
Simply pure olive oil saponified in a kettle, the old-fashioned way! Beware, however, of pale imitations, most of which come from China! At Savon des Cantons, we directly import real black soap cooked in a pot from one of the last three major soap factories in Marseille.
But is it biodegradable?
Absolutely, black soap is 100% plant-based, it's the multipurpose product in the home that would have the smallest ecological footprint. Pretty hard to beat, isn't it? So, no more detergents and other industrial detergents with a large ecological footprint.
Here are the 10 most common uses of black soap
---
1) Hardwood, ceramic floors or floating floors.
For a nice lemony smell, add a few drops of lemon-essential oil in your dilution. The black soap will sanitize your surfaces, which means that baby, for example, will be able to crawl on your clean and healthy floors, without any chemicals! In addition to deep cleaning, black soap will treat your hardwood or ceramic floors, but also marble or terracotta floors and floating floors.
Recipe: Dilute 2 tablespoons of black soap in 5 litres of hot water. Add 10 drops of lemon essential oil to increase the sanitizing properties and leaves a superb smell to your room, wash the desired surface. No need to rinse afterwards.
---
2) Kitchen counters, sinks, stoves and pans, hood.
Black soap is an amazing natural degreaser, it will remove grease stains easily and sanitize all your wood, granite, marble or laminate work surfaces. It is also perfect for cleaning a dirty oven.
Recipe: Pour a little black soap on a damp sponge, wash your surfaces and rinse with hot water. To clean a dirty oven: when the oven is warm, apply black soap directly to the dirty parts, leave it on overnight and then rinse the soap with hot water.
---
3) A natural dishwashing product? Absolutely!
It cleans and shines your dishes; it is a fantastic ecological alternative to industrial dishwashing liquid. It is also perfect for frying pans and other pots and pans (even for your deep fryer). The black soap will also restore the shine to all your stainless-steel pots and pans.
Recipe: Pour a little black soap on a damp sponge, wash your dishes and rinse with hot water.
---
4)The windows! No more alcohol-based products!
Recipe: Dilute a small spoonful of black soap in two litres of hot water. Clean your windows with a sponge soaked in your dilution and wipe your surface with a squeegee. It is not necessary to rinse, but for a better finish, a final wipe with a dry microfibre cloth would be perfect!
---
5) Leather, he loves it!
Whether it's your sofa, jackets, car seats or other objects, black soap is wonderful because not only will it give a beautiful shine and suppleness to your leather surfaces, but because of its 100% vegetal composition, it will also nourish them. Absolutely ideal for horse saddles and harnesses!
Recipe: Pour a little black soap on a clean cloth, rub the leather to clean it and rinse with warm water.
---
6) The barbecue Not easy to clean, right?
With the black soap it's child's play, your cooking grids and the inside of your barbecue will regain their youthful lustre. The recipe: Pour a little black soap directly onto a stiff bristle brush, rub the grill and all the greasy parts of your barbecue, rinse with hot water.
---
7) Stoves and fireplaces
Black soap will rid your stove or fireplace of all the soot that blackens it. The glass of your slow-burning stove will regain its transparency and, of course, you will finally avoid the usual cleaning chemicals that are classified as highly harmful to you and the environment.
Recipe: Pour black soap on a ball of newspapers, rub the glass of your stove and rinse with hot water.
---
8) Cars, motorbikes, bicycles, boats…
From the outside to the inside, your car will regain the shine that seduced you when you bought it, from the dashboard to the rear lights. The same goes for motorcycles, bikes and boats. It works just as well for the body as it does for the dashboard.
Recipe: Pour a little black soap on a damp sponge, rub the surface to be cleaned and rinse with lukewarm water.
---
9) Plants
In dilution to be sprayed, you will naturally treat all your indoor or outdoor plants against the fumagine of the lice and other red spiders that slowly kill them.
Recipe: Dilute 5 tablespoons of black soap in a litre of lukewarm water, pour the mixture into a sprayer and spray the product directly onto your plants. Black soap is effective against aphids, mealy bugs, red spiders and other troublesome bugs. Avoid treating your plants in direct sunlight.
---
10) Pets
The black soap gently washes your pets' coats and will make their hair extra shiny and healthy. Ideal also for the coat of horses!
Recipe: Wet the coat of your favourite animal, use two to three drops of black soap directly on their coat. Finally, like a shampoo, rub and rinse thoroughly.